Andidrain operate a fleet of 3rd generation D:MAX units to process a variety of waste materials from digesters on wastewater treatment sites, separating rag and plastics as well as grit materials from waste.
Grit Screening and Classification
With the Andidrain D:MAX, clients can significantly reduce waste to landfill volumes, recover materials for reuse and save costs.
Given the increasing costs of sending material to landfill, any system that can reduce volumes to this extent can have a significant impact on operational costs for operators in the industry.
Andidrain's D:MAX is a proven solution, offering water utility companies and their contractors the most efficient processing system for a range of waste materials and maximises the potential for material recovery.
The benefits
• Waste that once went to landfill can be significantly reduced – typically by around 70%
• Waste is now drier and easier to manage.
• Transport movements are reduced as a result of the recycling and material recovery taking place in situ.
• As well as reducing waste to landfill, recovered materials can be resold, giving customers a new revenue stream.
• In addition to this the organics and other screenings can be used in energy generation.The D:MAX is a mobile trailer mounted screening and classification system used to process a variety of materials from the water and waste water treatment process. The mobile nature of the unit means that we can deal with the material at source, on the customer's premises, minimising the transport costs.
How it works
The raw waste is delivered to the D:MAX and fed directly onto the first high frequency dewatering screen where rag, plastics and any other oversize material are removed. This material is discharged into a skip at the end of the screen. The contents of this skip represent the material that is destined for landfill as it is of no commercial use or value.
The wastewater and grit material passes through a polyurethane screen deck to a collection sump and is pumped to the second treatment stage, which involves the waste slurry passing through a specially configured hydrocyclone where fine silts and clays are removed.
At the third treatment stage the slurry is discharged from the cyclone onto the second dewatering screen where the grit is dewatered. This material is then discharged into a second skip at the end of the screen which can provide a new revenue stream for D:MAX customers.
The dewatered grit material can be sold as recycled aggregates, suitable for a number of applications.
Washed grit removed by the D:MAX from digested sludge can be mixed with the dewatered sludge (centrifuge) cake and sold off for agricultural use.
Case Studies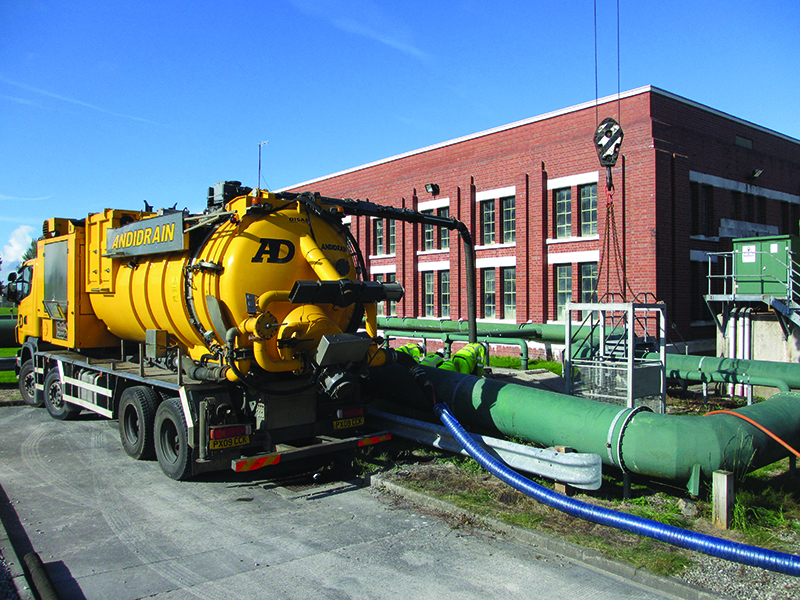 The problem The pumps in a large 16m wide and 20m deep inlet pumping station…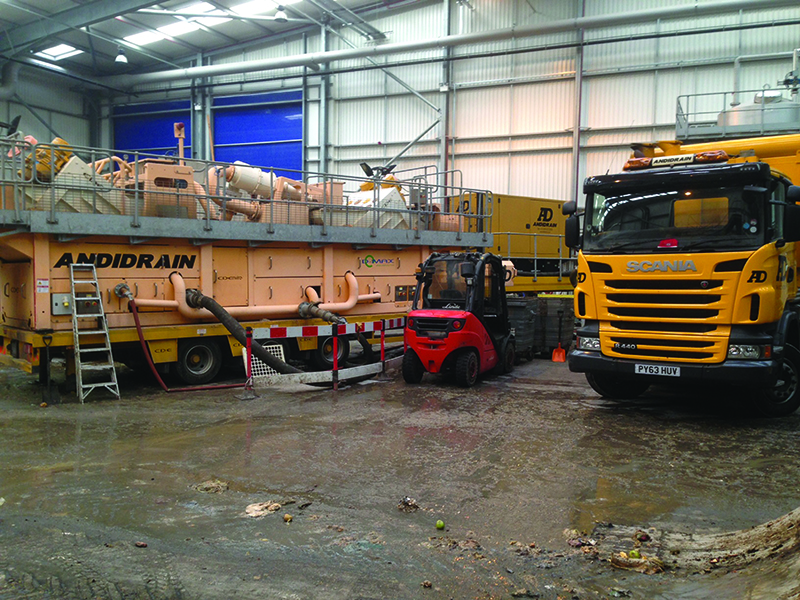 The problem The mixers in a customer's Anaerobic Digester had stopped working due to the…
"Over the last 5 years I have found Andidrain to be reliable, flexible and easy to do business with.
They have adapted to the ever changing demands in the industry and provide a quality service, whilst always looking for improvements and efficiencies."
"Andidrain emptied and cleaned one of the AD digesters, a liquid feedstock vessel and a lagoon; I was impressed with the professionalism of the team, along with the quality of work carried out. I would have no hesitation in recommending Andidrain for digester cleaning."